MOSCOW CITY CLINICAL HOSPITAL
named after V.M. BUYANOV
Professionalism and Mercy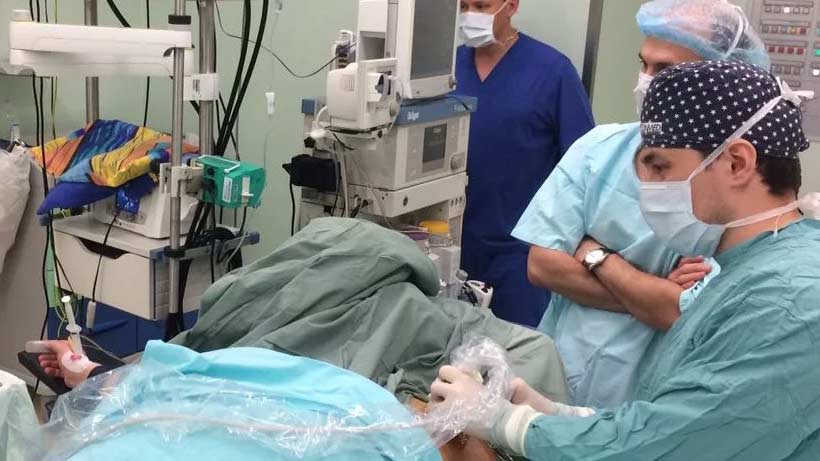 Elimination of pain syndrome after ruptures of shoulder tendon
The tendons of the rotator cuff of the shoulder joint it's a complex of four muscles tightly surrounding the joint and responsible for the movement and stability of the head of the shoulder.
The most common tendon ruptures are found in patients of the older age group (over 50 years), especially in smokers and /or in patients with diabetes. If the reconstruction is not performed in time, the muscle atrophies, and restoration of the integrity of the tendons is almost impossible. In the future, only large surgical interventions can help. On the other hand, a good results can be achieved by a properly selected curative gymnastics program, but, as a rule, the severe pain syndrome does not allow the patient to perform exercises.
In August 2017, the doctors of the Orthopedics Department of the Moscow City Clinical Hospital after V.M. Buyanov managed to solve this problem by performing the unique operation to restore the tendons of the rotator cuff of the shoulder joint to the patient of 56 years old. The main complaint was as follows: the pain on the anterior surface of the shoulder joint prevented the patient from practicing the exercise therapy. Due to the high anesthetic risk (severe concomitant pathology), a large surgical intervention was contraindicated.
Under conductor anesthesia, the doctors of the Orth. Dep. performed a 5 mm long incision and under ultrasound control, the tendon of the long biceps head was cut off. The duration of the operation did not exceed 10 minutes. Due to the elimination of the load from the tendon of the long biceps head, the pain syndrome was significantly reduced the next day, and the patient was discharged home, where she was soon able to continue the active exercises of remedial gymnastics.
International Medical Department:
9.00 am – 7.00 pm, Monday to Friday
Visiting hours:
5.00 pm – 7.00 pm, Monday to Sunday
26, Bakinskaya St., Moscow,
Russian Federation, 115516